| Home |
Wivenhoe Park Millennium Oaks
To commemorate the millennium 60 oaks were planted in Wivenhoe Park, University of Essex, UK, in November 2000. This project was the brainchild of Prof. Tim Gray of the Department of Biological Sciences.
The oaks ranged from North America to the Far East; I planted a Portuguese oak (Quercus faginea) near the North towers. However, years later I could not find it. Where was it? Where were all the other millennium oaks?
The person who helped me find 'my oak' was the dendrologist, Christopher Howard, who had a lot of information about the campus trees and was very willing to share it. We located 'my oak' and a few more on our first field trip, October 2014.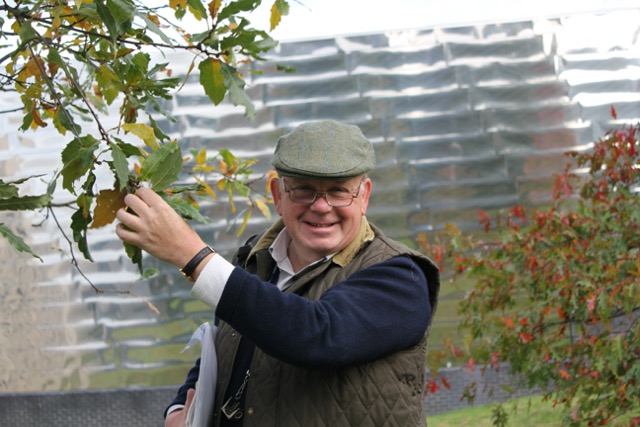 Christopher Howard holding on to a branch of his favourite oak:
Cambridge Oak (Qercus ×warburgii) number 55. 21 October 2014.
With his invaluable help and of several other people, after four years of fieldwork I managed to locate and (roughly) identify all the other oaks. By late 2018 there were 52 millennium oaks, comprising 25 species; not including the Cambridge Oak number 55, which in the meantime had died, probably of some oak disease.
For more details about this collection check the map below and/or my article in the International Oak Website: The Wivenhoe Park millennium oaks collection - In memoriam Professor Tim Gray, 1937 - 2018.
Interactive Google map of the campus indicating the millennium oaks.
Click on each oak to view their name and some photos.
Update!
Earlier in 2020 Christopher Howard updated the campus tree trail. The new campus trail is available on this page: Wivenhoe Park, University of Essex, UK, scroll down to Our Trees and follow the links. Please note that the new trail now includes five millennium oaks, instead of two; moreover, all trail trees have descriptive back labels of the same design as his Castle Park tree trail.
Very sadly Christopher passed away in September after a short illness. A tremendous loss to the community; see this page by Rowena Macaulay, another of his friends.
Meanwhile since 2018 some changes have occurred in this collection. At the time of writing, not counting four struggling oaks, there are about 48 thriving millennium oaks in the park - an excellent survival rate. This collection continues to enhance the value of Wivenhoe Park, which is rated among the ten best parks in the UK. See below four millennium oaks, part of the grove planted in memory of Professor Alan Gibson.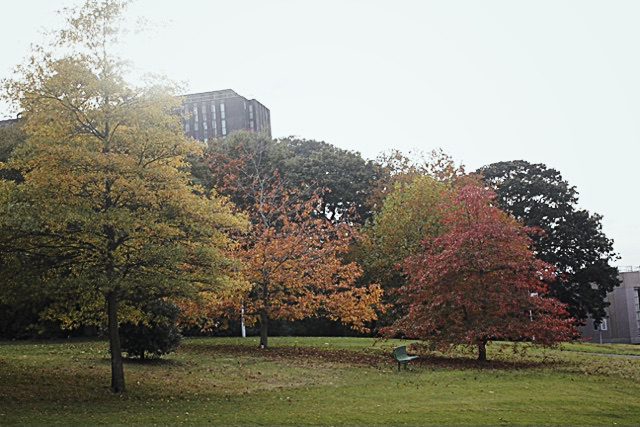 Four millennium oaks near the Ivor Crewe Lecture Hall. 28 October 2019.
This collection is well worth a visit and should you want an updated version of Table 1 of the original article, do not hesitate in contacting me.
Contact: Maria Fremlin
Last modified: 14 January 2021
| Home |